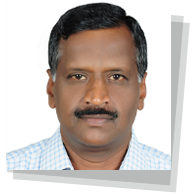 Dr. S. Pradeep Kumar
Director (i/c)

The KSCSTE-Malabar Botanical Garden and Institute for Plant Sciences (KSCSTE-MBGIPS) came into existence during 2015 by upgrading the then Malabar Botanical Garden Society (MBGS), a Grant-in-aid Institution under the Kerala State Council for Science Technology and Environment. Situated on the south east border of the historic Calicut. MBGIPS has over 50 acres of land and gradually slopes from a panoramic hillock to a flat wetland of sledges. The institution of the Kerala State Council for Science, Technology & Environment, envisages the conservation of plant diversity of the Western Ghats in general and the aquatic plants and lower groups in particular. The natural terrain that nestles the garden, provides an ambient niche for a diverse community of plants ranging from flowering to non-flowering. Diversity is the prerequisite for a resilient ecosystem since species with overlapping ecological functions can prevent species destruction allowing a diverse community to survive and reorganize itself.
The Institute also has taken up a new campus at Kozhikode beach owned by KSCSTE. The flagship project of this 0.5-acre campus has been to develop as a training centre for entrepreneurs and for the conduct of outreach programmes. This programme has just been initiated by establishing a sales outlet for plants.
Though MBGIPS is not very far away from the Society and the city, we are also very close to Nature. This unique position presents a special challenge in our efforts to collect and maintain a critical mass of talented and enthusiastic manpower. Bring life to the lessons you have learnt and be a part of the conservation efforts by visiting us, much more awaits your eyes at MBGIPS. The garden is open to students for nature education and to general public as part of promoting scientific and environmental awareness to conserve the natural resources. We have many tailor-made programmes to suit different categories of students.
The achievements in last two years also included a rapid improvement of the research facilities and general infrastructure. The new research building, guest house complex, seminar complex, garden cafe, public toilet complex etc were completed in war footings. Many new conservatories were established and majority of the then existing conservatories were renovated and upgraded. These new facilities will create a high-quality environment for research and other academic programmes. MBGIPS has enjoyed strong support from the Kerala State Council for Science Technology and Environment, Govt. of Kerala in these activities.
In the coming years MBGIPS aims to be counted among the best institutions of research and education in the state. We will continue to build on our strengths in research in basic and modern science, persevere in developing world-class learning/awareness programmes at postgraduate and undergraduate levels and encourage the incubation of successful startups. Further, we are conscious of our social responsibility and will continue to carry out activities with direct social impact, such as school and undergraduate teachers training, development and dissemination of sustainable technologies, and research with direct relevance to society etc.
As we move forward to transform our vision into reality, we will create endless opportunities for general public, students, teachers and researchers in the coming years. I welcome you all to join us in our philosophy and exciting journey.