MBGIPS was selected for the 'KSCSTE Best Performing Emerging Institute Award for the year 2021′. The award was distributed by the Hon'ble Chief Minister at the KSCSTE's 50th Anniversary Celebrations on 29th May 2022 at the Kerala Arts and Crafts Village, Kovalam.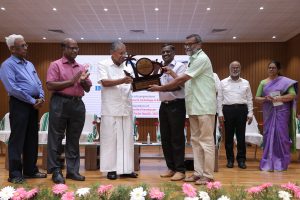 University of Calicut has approved Malabar Botanical Garden as one of its Research Centres: MBGIPS has been approved as a research centre in Botany of the University of Calicut w.e.f. 03-11-2011 vide University order No. CDC/2121/2010 dtd. 03-11-2011
The UN University, Japan have recognized Malabar Botanical Garden and Institute for Plant Sciences, Kozhikode as their Regional Centre of Expertise in Biodiversity Research
Member, Botanical Garden Conservation International, UK.
Recognised as the international herbarium for Algae, fungi, lichen, bryophytes, pteridophytes, angiosperms, under the acronym MBGH.
Member, International Society for Horticultural Science
John C. Jacob Award: The MBGIPS has been chosen for the maiden award instituted by Green World, in memory of environmental activist sri. John C. Jacob. The John C. Jacob Award is given to institutions making outstanding contribution to create public awareness on environment-related matters and carries a cash prize of Rs.10,000 and a citation.
Recognised as the Lead Garden in Aquatic Plant Biodiversity by the Ministry of Environment Forest and Climate Change, GoI
Kerala State Biodiversity Award: MBGIPS has bagged the KSBB Award 2013 for 'Green Institution'.